BRAND PROFILE
Born in Tokyo, Aya Takeshima spent her formative years in London and Paris where she went on to study at central saint martins graduating with a BA in Fashion Knitwear with 1st class Honours.
She has been selected as one of the eight designers for CFDA+ 2016 design graduates, also for Hyères award semi finalist in 2017.
In Paris, she honed her skills at fashion houses such as KOCHÉ and Maison Lemarié (CHANEL métier d'art)
Before returning to Tokyo to establish her own label AYÂME (a half-eponymous with a French word ÂME for spirit) in 2017. 
AYÂME embodies modern elegance.
With her enormous respect for craftsmanship, her signature style is associated with her cutting edge technique to integrate minimalism with romantic texture, pale colour textiles, lace fabrics, intricate gathering, sheer layering and floral motifs.
HEr collections are a sophisticated combination of avant-garde gaiety, intensity and softness.
INTERVIEW / ARTICLE
PERK magazine
QUOTATION magazeine
SOEN magazine
Nikkei MJ newspaper

EXPERIENCES / EDUCATION / AWARDS
2018
Winner of JFLF award 2017 (Tokyo, JAPAN)
2017
Launched ayâme (Tokyo, JAPAN)
2016
Graduated Central Saint Martins BA Fashion Knitwear with 1st Class Honors (London, UK)
Selected as CFDA+ 2016 DESIGN GRADUATE (NY, USA)
Semi-finalist of the 32th International Festival of Fashion and Photography in Hyères (Hyères, FRANCE)
Winner of Sally Woodward Award (London, UK)
Finalist of NEW BEAT International competition (Hong Kong, CHINA)
2015
Embroidery textile design at CHANEL métier d'Art, Maison Lemarié (Paris, FRANCE)
Finalist of SWAROVSKI Scholarship 2015 (London, UK)
Shortlist of The British Fashion Council Bursary (London, UK)
Finalist of INDEX Scholarship (London, UK)
2014
Knitwear design & Embroidery textile design at KOCHÉ

 (P

aris, FRANCE)
Winner of Umbria Cashmere District Award (Perugia, ITALY)
Costume production for Kanako Murakami
Nominated New face award Mainichi Fashion Grand Prix
2018
2017
ayâme x Kaho Okazaki exhibition 'daydream' at OZ gallery (Tokyo, JAPAN)
2016
New Beat International exhibition at The Fashion Gallery,
the Hong Kong Polytechnic University (HongKong, CHINA)
New Beat International exhibition in Small Round House Gallery,
Centro de las Artes de San Agustín (Oaxaca, MEXICO)
Central Saint Martins degree show 2016 (London, UK)
Central Saint Martins BA Fashion Press show 2016 (London, UK)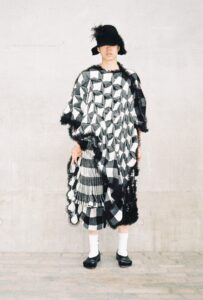 CFDA+ 2016 DESIGN GRADUATE, Semi-finalist of Hyères